The following relate to urban development and urban design in general, and to specific projects with sun/shade issues in particular. They were derived from our twitter feed @SunPosition
---
Don't drape our iconic public parks in shadows | Dorchester Reporter

"One of the world's most livable cities, Boston is known for the iconic parks that make up its heart, providing welcome open space in our urban environment while contributing to the physical and mental well-being of our residents and acting as a tourist hub to support our local economy. Boston Common and the Public Garden are parks for the entire city, sought-after destinations for thousands of Bostonians every day of the year. The Garden, with its Swan Boats, is world-renowned, and the Common has served Boston as the center stage of its civic life for centuries.
Since 1990, two state laws designed to prevent "shadow creep" from high-rise buildings have worked as intended – successfully protecting the Common and the Garden, while allowing robust development to continue downtown. Now, 25 years later, our landmark parks face a new challenge as the city of Boston seeks a one-time exemption to allow for a 775-foot luxury condominium and office high rise that will violate both shadow laws.
Millennium Partners' proposed building at Winthrop Square is poised to cast a morning shadow that at its greatest extent would stretch almost a mile from the Financial District down the middle of Boston Common, through the heart of the Public Garden, and onto the Commonwealth Avenue Mall. The city's proposal to amend the state laws in order to allow this building is short-sighted and creates a dangerous precedent."…
---
Pemberton Table 38-Storey Proposal at Broadway and Redpath | via @Urban_Toronto
"Northeast of Yonge & Eglinton, another high-rise tower is being planned for Toronto's Midtown hub. Building on the Pemberton Group's 2015 proposal for a 34-storey condominium tower, the developer has returned with new plans for a compact site at the southwest corner of Broadway and Redpath. Still designed by Graziani + Corazza—albeit with an altered architectural expression—the re-imagined tower comes about as both a response to City Planning's input on the earlier project, and as an increased height ask that draws on the precedents set by recent nearby approvals."…
"While a City report for the revised development is still pending, the preliminary report compiled in response to the original 2015 submission gives some notion of the City's general priorities. According to the report, "Staff indicated general support for a tower on the site... but raised concerns with the building height," while also assessing the previous 740 m² floorplate as excessive for the site. Pemberton maintains that the new height does not add shadow impact to a nearby parkette on Redpath."…

https://t.co/HS32UDIPfd

---
Residents say tower will cast a shadow over Greenwich Peninsula Ecology Park | London News Online
"RESIDENTS battling plans for a proposed 20 storey tower say it will "cast a long shadow" over an important wildlife haven.
Friends of Greenwich Peninsula Ecology Park are calling on Greenwich council to "think twice" before giving the go ahead for plans drawn up by Greenwich Millennium Village Ltd (GMVL) Residents are alarmed by the proposals revealed in consultation meetings for the further phase of development for Greenwich Millenium Village(GMV). The plans, for which outline planning permission was agreed in 2012 include a 20 storey residential block with 90 homes, a new onsite energy centre to provide low carbon, heat, hot water and electricity for residents, shops and offices.
But the detailed plans have raised concerns the tower block will have a significantly bad impact on the nearby Greenwich Peninsula Ecology Park and on some existing homes. The developers recognise that the tower, which is intended to be a landmark building higher than the existing buildings, will cast a shadow over about 10 per cent of the park. However a strip of land – called an "Ecology Swale" has been allocated close by and the tower has been made 36 per cent slimmer than that proposed on the masterplan to reduce shadowing.
Sue Younghouse a volunteer and member of the friends group, said: "This 20 storey building will cast long shadows over the park. That will reduce the ground temperature which in turn affects plant growth and invertebrate activity and it will change the bio diversity of the area for ever. Greenwich council should take a long hard look at the destruction this will cause and think twice about the damage they are doing today and for future generations.""…
---
80-storey tower proposed in Edmonton - CBA casts shade on tower | Edmonton Examiner
"Edmonton's Chinese Benevolent Association is casting shade on shade.
The association is concerned about Alldritt Group's proposed 80-storey tower and the shadow it will create.
The CBA is located in China Town, and would be neighbour to the potential tower whose proposal was sent back to developers recently.
According to Mei Hung, the CBA's vice-chair, they are concerned about the tower's safety, propensity to produce shade and the effect it will have on the city at-large.
Hung worries that the tower might create a wind-tunnel.
She is also concerned about the shadow the tower is likely to produce. Most people enjoy sunshine, she said, and the tower might also affect two senior-living residences in the area, blocking out the sun for an indeterminate amount of time.
"It overshadows the whole area. I don't don't know how far the shadow will go, and the timing. How long will it be that you're under the shadow of this tower on a daily basis. Is it half an hour, is it a couple of minutes?" Hung said.
According to the city, there will, indeed, be a shadow.
"There will be a sun shadow impact that will be different throughout the year, obviously, because of the movement," said Holly Mikkelsen, a senior planner with the City of Edmonton.
"A 280 metre tower will cast a shadow … Because it's a slim tower that gets slimmer as it rises to the top, the shadow does move quickly."
In some cases, this means the shadow will move across a location in five minutes, she said."…
RT @Edm_Examiner: .@BoyleStreetCL has list of concerns over proposed 80-storey tower in their neighbourhood #yeg https://t.co/1qkO5sAX9T


---
De Niro's Nobu plans luxury condo complex in downtown Toronto | via @torontostar
"If you want to be king for a night in Toronto, Robert De Niro could soon make you an offer you can't refuse.
Nobu Hospitality, the luxury restaurant and hotel chain De Niro founded with famed Japanese chef Nobu Matsuhisa and Hollywood producer Meir Teper, is planning Canada's first Nobu-branded condo, restaurant and hotel development on Mercer St. in Toronto's entertainment district.
Two 49-storey towers will be built above the current Pilkington Glass factory and will include a hotel, restaurant, ground-floor retail space and an outdoor Zen garden, according to a news release.
The façade of the Pilkington Glass factory, a heritage building, will be incorporated into the new design by Toronto-based Teeple Architects."…
"Toronto's developer Madison Group will undertake to build the project.
The Pilkington Glass Factory stood on the site at 15 Mercer St., near King St. W. and John St., since the late 1800s. It was originally a stable built for the horses that ferried people around the city from George Verral's horse-drawn transport company."
---
Changes to this obscure rule could leave Midtown East streets shrouded in shadow | The Architect's Newspaper
"The streets of Midtown East could get a whole lot darker thanks to changes in a little-known equation (outside of architecture, anyway) used to calculate shadows cast by tall buildings.
The city is looking to change a method developers use to calculate how much sunlight a building will obscure once it tops off."…
"The city is hoping that the rezoning will spur the development of more Class A office space in the 73-block district, which is losing potential tenants attracted to towers in the Financial District with larger floor plates. Consequently, proposed changes will permit towers up to 40 percent taller—and bulkier—than those currently allowed.
The Department of City Planning (DCP) estimated that the rezoning will lead to the construction of a few new towers, so it's unlikely that the entirety of Midtown East will be shrouded in perma-dusk in the future."
---
RT @dailyfreepress: .@FOPG is fighting the construction of a tower they say violates state shadow laws >
Advocates oppose construction of tower casting shadows over Boston Common, Public Garden | The Daily Free Press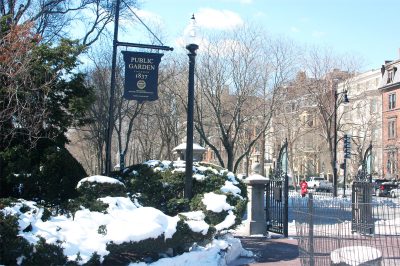 "Months after the City of Boston selected Millennium Partners' proposal to develop a multipurpose tower at 115 Winthrop Square, advocates for public landmarks continue to fight against this construction, as it violates state shadow laws, according to Liz Vizza, executive director of the Friends of the Public Garden, an organization dedicated to improving Boston's public parks."…
"Millennium Partners submitted their proposal in March 2016 for a tower up to 725 feet "that must contribute substantially to the image of downtown Boston's skyline [and] that is emblematic of the future of Boston's downtown," according to the statement.
Vizza said the Winthrop Square project would damage Boston's parks if exempt from the state's shadow laws.
"This arrangement sets … a standard for allowing the shadow to have a permanent impact on these parks," Vizza said. "This shadow alone isn't going to kill these parks or the horticulture, but it adds more shadow on parks that are already shaded.""…
"Vizza said she hopes this project will not start a trend of future projects that will be exempt from the law to be built.
"[The Winthrop tower project] also creates a blueprint for another proposal in the future, and another either developer or future mayor to see this as an opportunity to amend the laws for their building," Vizza said.
A shadow will be cast over the Boston Common and Public Garden as a result of the tower's height, although according to the fact sheet, the shadow will not qualify for the shadow bank, which is the maximum amount that a shadow can exceed the limit under state law in the Midtown Cultural District."…
---
Toronto home prices have surged an inflation-adjusted 40% in two years | via @buzzbuzzhome - https://t.co/v6yxpgqIE4
---
High-rise rally draws crowd to Austin Gardens | via @OakPark
"Perhaps 200 people turned out Sunday afternoon to Austin Gardens in downtown Oak Park for a rally to oppose a proposed 18-story apartment building they say would damage the ecology of the park.
Organizers of the Austin Gardens Don't Throw Shade Rally made no presentation but marked off areas of the park they say would be negatively impacted by the shadow that would be cast over the park for much of the year."…
"Joshua Klayman, an Oak Park resident who gathered petition signatures at the event, said residents are concerned that the dense shadow will damage the ecology of the park, preventing trees and other wildlife from receiving the proper amount of sun for much of the year."…
"Albion (Residential), in a written statement, reiterated its position that the L-shaped orientation would "minimize impact on Austin Gardens." The company noted that if it built an 8-story building as of right, it could do so in such a way that would have a much greater shadow impact on the park.
"Our shadow studies also show an 80-foot, block-shape building would create just as much, and at certain times of the year, more shadow impact on Austin Gardens than the building we proposed," Albion President Jason Koehn said in a written statement."…
---
Letter: The facts about our project at Lake and Forest | Chicago Tribune
"To correct misinformation and false fears about the project our company, Albion Residential, has proposed in Oak Park, we offer facts to clarify important issues.
Austin Gardens: The fear our building would "destroy" the park is incorrect. We took great care to design and position an L-shaped building and conducted shadow studies to confirm it would minimize additional impact on Austin Gardens."…
---
John Fisher not the only school affected by development | CityNews
"John Fisher Public School is not the only school in the Toronto District School Board that could be affected by development right next door. In fact, the TDSB has identified nine other schools with planned construction nearby, and now, they're trying to figure out if the board could benefit financially."…
"The board says there are currently 11 proposed tall tower projects to be built next to nine TDSB schools:
North Toronto CI – 55-65 Broadway Ave.
Grenoble PS – 25 St Dennis Dr.
Jesse Ketchum Jr Sr PS – 48-58 Scollard St.
Jesse Ketchum Jr Sr PS – 100 Davenport Rd.
Church Street Jr PS – 70-72 Carlton St.
Church Street Jr PS – 411 Church St.
Lord Lansdowne Jr Sr PS – 484 Spadina Ave.
Nelson Mandela Park PS – 14 Belvins Pl.
Cliffside PS – 2229 Kingston Rd.
Ryerson CS – Alexandra Park
Davisville Jr PS – 1955-1985 Yonge St, 18-22 Millwood Rd, 3 Belsize Dr.
Parents at Church Street School have fought tower projects in the past and have lost, and since then, are currently seeing two more condos constructed just steps away from the playground. Parents tell CityNews several of the towers completed in the area now block the sun, causing for little light in the school's playground."…
"In the case of the 11 upcoming tower projects, the TDSB says it would be hard to speculate how the schools would be impacted, as each scenario could be unique depending on the location. They are currently working on how to minimize the impacts of these projects on schools, and are looking to get more involved at the early stages.
"We need to be at that table with the city and the developer to be part of that discussion early on," Bird said. "So that if we have concerns, ideas, thoughts to do certain that's, that those could be brought to the table early on so that it doesn't even have to reach the stage of the Ontario Municipal Board.""
---
Cheers, Ralph